Ironbridge View Townhouse - Award winning self catering holiday home in Ironbridge
---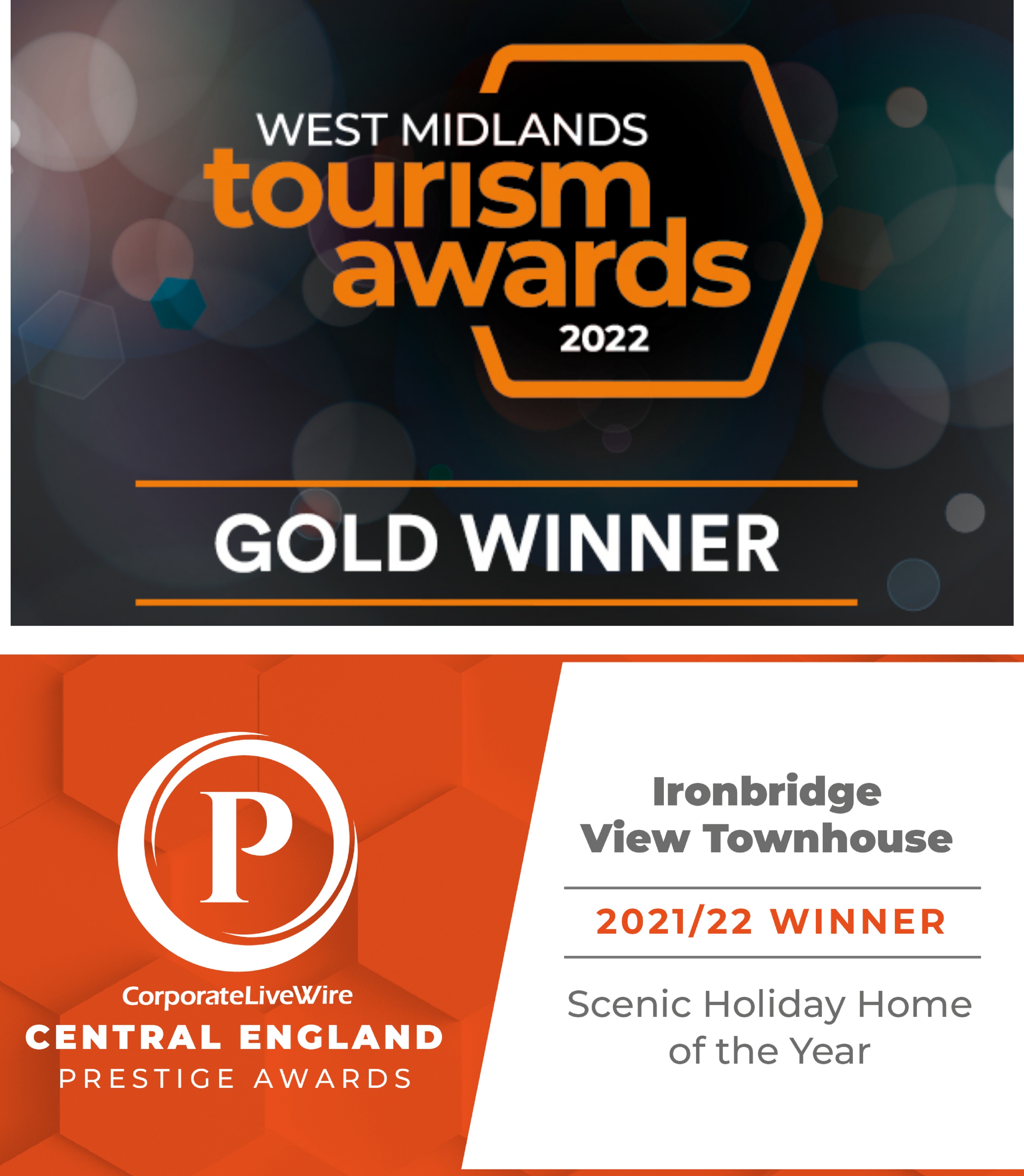 Ironbridge View Townhouse is a beautifully appointed 5 star gold holiday home, and has won three awards this year !- West Midlands Tourism Award for the best 'Self-Catering Accommodation of the Year' 2022 , 'Scenic Holiday Home of the Year 2021/22 in Central England Prestige Award and SME news Best Of British Getaways 'Most picturesque Self-Catering Holiday Home in Shropshire' 2022
The house is situated in the most excellent location in Ironbridge. Stunning views of the 1st Iron Bridge in the world! can be enjoyed from the cosy sofa in the living room. Relaxing evenings in with a fabulous illuminated view of the Iron Bridge and surrounding area.
Sitting in a small courtyard, the townhouse is surrounded by quaint tearooms, family run restaurants, pubs, antiques, books, toys, boutiques and souvenir shops and wonderful walks. Most of the 10 Ironbridge Gorge museums are within walking distance, so no need for the car.
The townhouse couldn't be more comfortable or stylishly furnished and decorated, featuring a living room, fully equipped kitchen, bathroom with bath and large corner walk in shower, and large bedroom which sleeps three, including a sumptuous king size bed & one single with pocket sprung mattresses, guaranteeing a wonderful night's sleep.
If it's a romantic retreat you're after or just a chance to spend a night or two in bliss, then you have found the perfect place. Ironbridge is wonderful anytime of the year, your only problem will be finding enough time to fit everything in - the perfect excuse to return!
 We had a wonderful stay with beautiful weather. You have thought of everything - A perfect 5 Star stay " Paul Burrell ( The late Princess Diana's butler) & Graham

" A fantastic house - just beautiful. Fantastic views and not often put house actually better than pictures - which were amazing." Chris & Ruth

"Our 10th stay, as immaculate as our first stay. Thanks Sue & Mick" Andy & Julie

"As this is now our 5th visit to this lovely house in magical Ironbridge. I think that says it all - fantastic, thank you Sue & Mick" Ruth & Adam