Covid19 -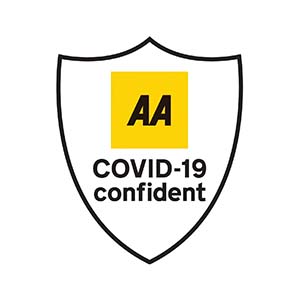 The wellbeing of our guests is our top priority.
Being 5 Star Gold our cleaning standards are already very high. We have put in place extra cleaning steps to minimise the risk for our guests and us contracting the virus and ensuring the accommodation is safe. We will be following England Health and Government guide lines. We are very pleased to have  received AA accreditation for Covid-19 confident 2021 & 2022. We have also completed the Hospitality Coronavirus course online and be involved in many hospitality web seminars for advise .
You will be able to check in and out yourself with a keycode.
If a guest arrives with or develops COVID-19 symptoms during their stay they must advise Ironbridge View Townhouse by telephone 07903322345 and return home to self-isolate following Government Guidelines. If you are unable to travel and Ironbridge view Townhouse has availability you wish to stay you will be charged full price for the extra nights. We adhere to Government guidance on reporting and managing a potential infection case. 
 COVID19 - CLEANING POLICY FOR IRONBRIDGE VIEW TOWNHOUSE
1. We will wear the correct protective clothing and cleaning products.
2. Follow the following process -
a. Ensure the property is ventilated whilst cleaning. This will ensure that there is no airborne virus in the property.
b. Understand the clean level required and have the appropriate equipment, and wear the appropriate protective clothing (gloves, apron and mask where appropriate).
c. Prepare the area to be cleaned (reducing the load) – remove waste, remove dirty linen and towels and carry out any initial cleaning required (ie load dishwasher, clear out fridge for leftovers, clear surfaces, etc).
d. Bedding & Linen: Use gloves to remove dirty linen carefully directly into bags (if it has not been stripped by our guests). Linen will not be shaken in case viruses are dispersed through the air. We will ensure it is removed from the property prior to cleaning the bedroom. Clean pillow and mattress protectors will be used for each changeover.
e. We will remove gloves and dispose of them after stripping beds. Wash hands. Apply clean gloves before putting the clean linen on the beds. The same will apply to towels, bathmats, tea towels and any other removable linen items.
f. Disposal of waste - waste of any kind will be placed in a plastic bag, tied and removed from the property and disposed of in an external bin. Hazardous waste will be disposed of according to government or council guidelines. Bins cleaned using hot soap water and disinfectant.
g. All crockery, cutlery, glassware will be put through the dishwasher to ensure virus free if possible, or washed in hot soapy water.
h. All hard surfaces will be wiped down and disinfected using appropriate products and ensuring it is left on the surface for the required time to kill the virus and to follow the manufacturers guidelines, some products can be misted onto soft furnishings.
i. All items on assessment list will be cleaned and wiped down with disinfectant or appropriate cleaning product.
j. Hands to be washed fully after the removal of protective clothing. Hand sanitiser will be used if not able to wash with hot running water.
k. If a guest is taken ill with covid19 during their stay we will have the complete house sanitised by a professional firm. We will use gleaming services Telford 01952 952115 or JL Cleaning Telford TF2 8HZ Office tel. 01952 404214 Mobile 07843 083311. Email info@jlcarpetcleaning.co.uk
Contact with guests will be kept to a minimum. Self check in and out. If we are request to visit the house we will keep to the social distancing guidelines, and if needed wear a mask. We have put in place extra steps to minimise the risk for us while cleaning, contracting the virus and ensuring the accommodation is safe for our new guests.


Assessment List -Our normal high standard of cleaning will still remain with the addition of sanitise and items cleaned with disinfectant. Items will be cleaned first then disinfectant applied.

Bedroom - Chest of Drawers, Bedside tables x2, Dressing table, 3 x lamp bases, Wardrobe, hangers, luggage rack, Pictures, Mirror, Hair dryer, Ironing board, clothes airer, Bin, window sill, Door and handle to both sides of ensuite bathroom,

Bathroom - Bath, Shower - all glass doors, shower hose, head etc., Toilet - toilet base, seat, flush etc., Toilet roll holder, Towel rail, bin, Toothbrush holder and soap dispenser. Wooden box seat, Boiler door, hander etc., Window sill. Floor

Hall - Front door and kitchen door. Both handles and knobs. Mirror, Coat hooks, Thermostat, Hand rail, Floor, Pictures, Clock. Window sill

Kitchen - light switches, Kitchen cabinet handles, cabinet doors, Oven, Hob, Extractor, Fridge in side and out, Freezer, Microwave, Washing machine, Kettle, Toaster, Bread bin, fan, Bin, recycling bin, Dishware etc placed in dishwasher. Picture, Vacuum Cleaner, Iron, Bucket, Broom, Bush soft and hard

Lounge - Handrail, sideboard, cabinet, bookcase, lamp, window sill, coffee table, curtain tie backs, tv, tv controls,