We are celebrating - We have been shortlisted for the 2024 West Midlands Tourism Awards!
September 13. 2023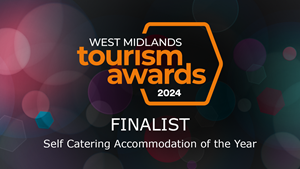 We are so very proud and excited, to announce that we have again been shortlisted in the West Midlands Tourism Awards for 2024 for the best 'Self Catering Accommodation of the year'
We know that when on holiday attention to detail really matters to most people, as it does to us.  We thrive on creating a wonderful experience for all our guests to enjoy a type of holiday that suits them. 
We generally do care that our guests have an enjoyable stay.
We're looking forward to attending the awards night in 2024.