WE HAVE WON! - 2020 'SCENIC HOLIDAY HOME OF THE YEAR!'
October 12. 2020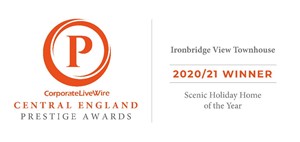 'SCENIC HOLIDAY HOME OF THE YEAR 2020!'
WE HAVE WON! Our third award this year! We couldn't be happier to win the Corporate Live Wire Prestige Award 2020 for the best 'Scenic Holiday Home of the Year' in the Central England area. 
More information in a few months, watch this space!
The corporate Live Wire prestige Awards recognises small & medium business that have proven themselves to be the best in their market in the last 12 months.
We like to thank all our guests for all your wonderful reviews. We really appreciate it and love hearing that you have had a wonderful stay in our Townhouse. Thank you.
We look forward to welcoming you back again sometime.