Winner for the 3rd year running - 'Scenic Holiday Home of the year ' 2022/23
April 10. 2023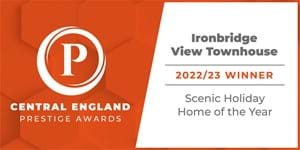 WE HAVE WON for the 3RD YEAR RUNNING !
We couldn't be happier and proud to announce we have won for the third year running the Corporate Live Wire Prestige Award 2022/23 for the best 'Scenic Holiday Home of the Year' in Central England .We feel very honoured to win it again this year.
The corporate Live Wire Prestige Awards recognises small & medium business that have proven themselves to be the best in their market in the last 12 months.
The judges were particularly impressed by our exceptional committed customer service, consistent high rated reviews and our spectacular view.
🏆🥂🍾We like to thank all our guests for taking their time to leave us such wonderful reviews. We really appreciate it and love hearing that you've had a wonderful holiday and stay at the townhouse. We generally do care that our guests have a enjoyable stay.
Next month we're looking forward to collecting our award at the Prestige Central England Awards in Birmingham..